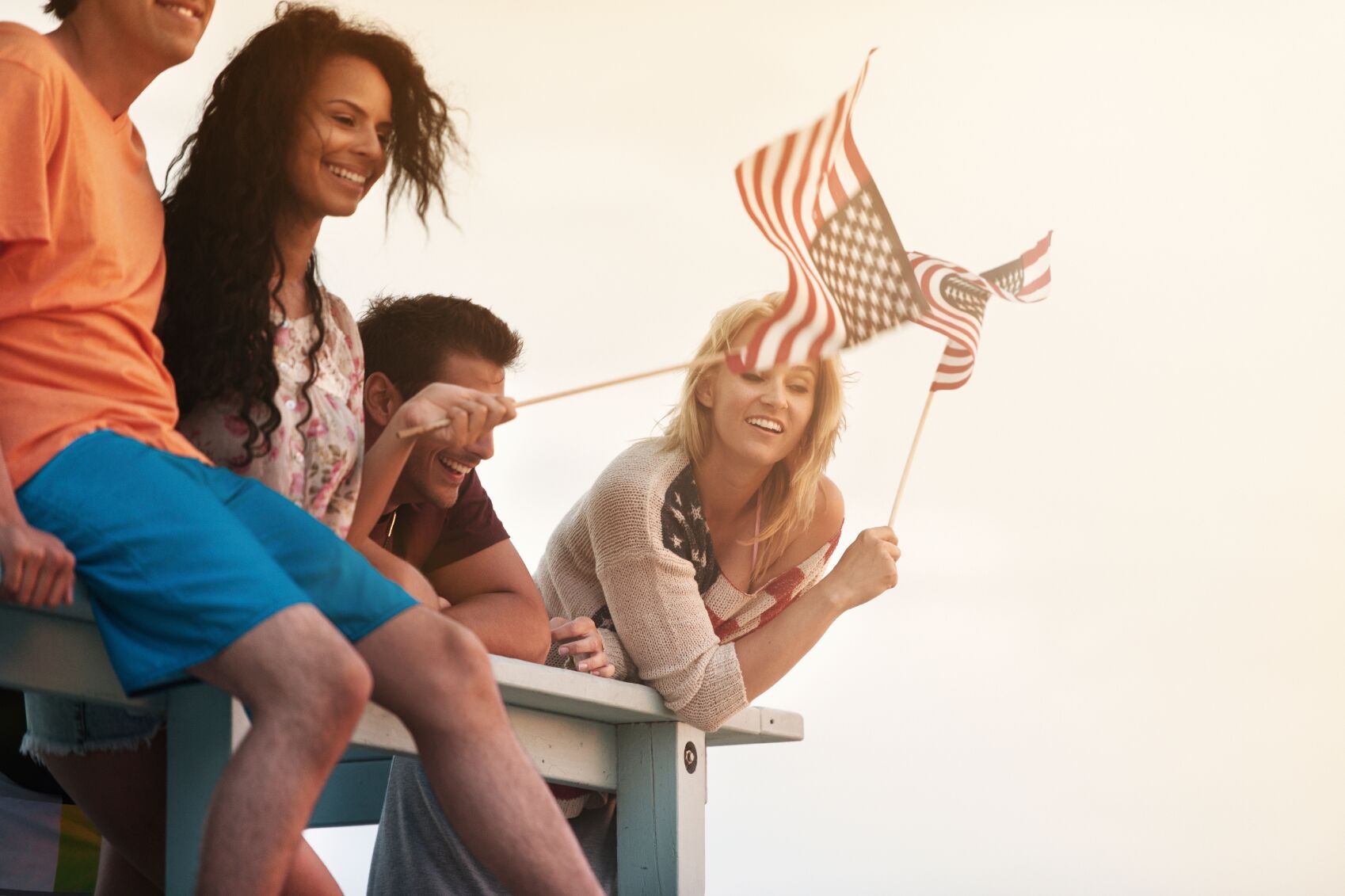 Via OrangeCounty.net
Anaheim Hills
Canyon Hills Community Council's Annual Fourth of July Celebration 
Wednesday, July 4, 2018
all day events
This event starts early with a 5K/10K run at 7 a.m. and a pancake breakfast at 7:30 at Canyon High School. The Yankee Doodle Dog Show and parade follows these events. From there, the party moves to Peralta Park, where you will enjoy countless food vendor and expo booths of local businesses and organizations and live musical performances. Don't forget to grab a seat for your family and friends as the night culminates with a spectacular fireworks display at 9 pm honoring the red white and blue!
LOCATION:
Canyon High School & Peralta Park in Anaheim Hills, California
Balboa
Balboa Peninsula-Newport Bay July 4 Fireworks & Parade Cruises
Wednesday, July 4, 2018
Newport Landing will have 3 cruises for the 4th Of July including the Firework Spectacular evening cruise. Witness Newport Harbor as it is full of the Spirit of America.
2 1/2 hour daytime cruise times – 1:00pm to 3:30pm & 4:00pm to 6:30pm. Night time fireworks cruise will run 7:00pm to 9:30pm.
INFORMATION:
For additional information or to make reservations call
(949) 673-1489
Brea
Annual Brea Country Fair 
Wednesday, July 4, 2018
Day-long festivities begin with the Kiwanis Pancake Breakfast at 7 -11 a.m. The fair officially opens at 10 a.m. and free entertainment continues until 3 p.m with live music, kiddie parade, food, games, exhibits, teen fun area, and Market Place craft area. Swimming at the Plunge begins at 11 a.m. for $2.
LOCATION:
City Hall Park
401 S. Brea Blvd.
Brea, CA 92821
Costa Mesa
Pacific Symphony: Music of Chicago
July 4, 2018
8 pm
Celebrate the Fourth with the music of Chicago, known as the "rock and roll band with horns." With hits like "You're the Inspiration," "25 or 6 to 4," "If You Leave Me Now," and "Hard to Say I'm Sorry" you'll be swept away by the melodies that make this band such a beloved classic. To cap off the evening, sing along to your favorite patriotic tunes as we salute our armed forces and thrill to a sizzling fireworks show. And this year, parking is free!
LOCATION:
Pacific Amphitheatre @ the OC Fair & Event Center88 Fair Drive Costa Mesa, California INFORMATION:    714-755-5799
Cypress
Fireworks Celebration
July 4
6 pm gates open
Food Court, Sponsor Booths, Entertainment, Fireworks, Kids Fun Zone. Fireworks begin at 9 pm
Due to security regulations all adults must provide one of the following I.D.s: California Driver's License or California I.D or Military ID or Passport. Lawn chairs and blankets are encouraged. NO Alcohol Please! $5 event parking
LOCATION:
Held at Joint Forces Training Base, Los Alamitos 11200 Lexington Drive (enter at Lexington Gate, South of Katella Avenue).
$5 Event parking
INFORMATION:
714-229-6700
Dana Point
4th of July All American Ocean-View BBQ Buffet at Laguna Cliffs
July 4
LOCATION:
Laguna Cliffs Marriott Resort and Spa
Vue patio and Vue lawn
25135 Park Lantern
Dana Point
INFORMATION:
Reservations are required. Please book on Open Table
Independence Day Fireworks Extravaganza 
July 4, 2018
Fireworks at 8:45 pm
Start out early in the morning if you're planning an Independence Day celebration at Doheny State Beach as this is the busiest day of the year. At 8:45 pm, tune your radio to KSBR 88.5FM, look toward the skies over Doheny State Beach and experience this patriotic extravaganza. The fireworks are synchronized to a captivating musical score….if you haven't heard the music with the fireworks, you're only getting half the experience!
Free Shuttle Service from Dana Hills High School to the Dana Point Harbor from 10:00am-11:00pm. Locals are encouraged to bike or walk to their favorite viewing spot to avoid the annual parking difficulties.
LOCATION:
Dana Point Harbor
INFORMATION:
For additional information, call (949) 248-3530
4th of July Fireworks Cruises
July 4, 2018
Enjoy a unique evening of fun on the water, complete with a live Fireworks demonstration sponsored by the city of Dana Point. Cruises detailed below:
Dinner Cruise, 7:30pm – 9:30pm
$89 ADULTS | $45 KIDS (5-12) $10 TODDLERS (0-4)
Held aboard the 95 ft Dana Pride and serving a scrumptious buffet style dinner before watching the fireworks show from their large limited passenger vessel.
Display Cruise, 8:00pm – 9:30pm
$45 ADULTS | $29 KIDS (3-12)
4th of July on the water – an amazing experience! Enjoy fireworks with a spectacular view! Limited seating.
Curlew Sailboat Fireworks Cruise, 6:00pm – 9:30pm
$95 ADULTS | $65 KIDS (2-12)
Kick off the evening with a romantic, adventurous sailing trip on the schooner Curlew, then sit back and enjoy the Dana Point fireworks as you anchor off shore, for a very spectacular close encounter. Complimentary champagne, soft drinks and hors d'oeuvres.
LOCATION:
Dana Wharf Sportfishing
Dana Point Harbor
INFORMATION:
Make reservations online or call (949) 496-5794
Fullerton
Annual Community Fireworks Show and Festival
July 4, 2018
5 p.m. to 9:30 p.m.
Food, entertainment and fireworks!
There will be live music (by Deke Dickerson and the Ecofonics) and additional entertainment. NOMINAL FEES MAY APPLY for SOME activities (Approximately $2 to $5). Fireworks begin at 9 p.m. and last for approximately 20 minutes.
All food is reasonably priced, and is being offered by local charity organizations. No alcohol is served or allowed in the area. All coolers will be checked. No glass containers, no smoking, no umbrellas, and no pets.
LOCATION:
Fullerton High School Softball Field
located on Lemon between Chapman and Berkeley
INFORMATION:
714-738-3167
Huntington Beach
4th of July Parade & Pier Festival
July 1-4, 2018
Three days of fun with live entertainment, exhibitors, food vendors and family activities.
Pier Plaza Festival runs July 1st – July 4th from 9:00am – 10:00pm. On Wednesday, the 4th, there will be a parade, pancake breakfast, 5K Run and fireworks over the ocean at 9 pm.
LOCATION:
Check website for all activity locations
Laguna Hills
City of Laguna Hills Fourth of July Celebration
July 4, 2018
4 pm – 9:30
Carnival rides and games, live music, patriotic crafts and face painting will all be part of the celebration along with a fabulous fireworks show to conclude the evening. Food and drinks will be available for purchase. Bring lawn chairs and umbrellas.
Parking is available on Paseo de Valencia (between Alicia Pkwy & La Paz) and on Laguna Hills Dr. (between Paseo de Valencia and Indian Hills).
LOCATION:
Laguna Hills Community Center
25555 Alicia Parkway
Laguna Hills, CA 92653
INFORMATION:
(949) 707-2680
Laguna Niguel
Run For Fun on the 4th
July 4, 2018
all day events
Laguna Niguel Family YMCA 40th Annual 4th of July Run in the Parks will take place on Wednesday, July 4th at the Crown Valley Community Park at the Laguna Niguel YMCA.
This proud community tradition features a 5K run/walk, 10K run, dog walk, and children's races with proceeds benefiting the Y's scholarship program. Get ready to EXERCISE YOUR INDEPENDENCE!
LOCATION:
Crown Valley Community Park, At the Laguna Niguel YMCA, 29831 Crown Valley Parkway
Laguna Niguel, CA
4th of July all day celebration 
July 4, 2018
all day events
Pancake Breakfast 7:30 – 10:30 am, Hosted by the Laguna Niguel Chamber of Commerce in conjunction with the YMCA. $5 for breakfast. Held at Crown Valley Park
Concert 6-8pm Kick off your evening festivities with a live concert by The Suffragetes (Hits from 70′s & Today) at Crown Valley community Park! After the concert, walk to the Regional Park to watch the Fireworks Spectacular (3/4 mi. walk each way). Bring flashlights and something to sit on in grass/dirt.
FIREWORKS LOCATION: Starts at 9 pm
LN Regional Park, 28241 La Paz Rd (Over the lake)
Limited parking inside the LN Regional Park (fees apply) and on La Paz Road
INFORMATION:
949-425-5100
La Palma
Annual Run for Fun Event
Wednesday, July 4, 2018
A healthy way to kick off your Fourth of July Festivities! La Palma's Fitness Run for Fun is more than just another run: it's an opportunity to experience that small town/hometown sense of community. 5K Run, 5K Walk, & 10K Run all start at 7:30 am.
Kids! Join in the 8th annual Yankee Doodle Dash (8:30 a.m.), a race geared for children 2 – 12 years old. This non-competitive run will have two starting points based on age or ability. The 1/5 mile run (6 – 12 year old) will start in front of Bank of America, while the 1/10 mile run (2 – 5 year old) will start in front of the Orange County Library – La Palma Branch. Each runner will receive an official race bib and a participation medal. Although this race is intended for kids, parents are welcome to run with their children. Registration is required for this run and space is limited.
The Family Fun Zone will have plenty to do for families of all ages! The La Palma Kiwanis Club will also serve their annual Pancake Breakfast at 7:30
LOCATION:
La Palma Central Park
7821 Walker St
La Habra
Annual 4th of July Spectacular 
July 4, 2018
Gates open at 4:00 pm, Fireworks at 9:00 pm
Larger location this year! In addition to a fantastic fireworks display, this event includes live music by Soto (at 6pm), food & drinks, kids' zone, including balloon artist, face painting, giant slide, obstacle course and game booths.
Pre-sale wristbands are available for sale at the La Habra Community Center, 101 W. La Habra Blvd.
LOCATION:
La Bonita Park
1440 W. Whittier Blvd
La Habra, CA
INFORMATION:
562-383-4200
Lake Forest
Fourth of July Parade
July 4, 2018
10 am – 12 pm
Parade starts at the intersection of Toledo Way and Ridge Route. Parking is located in the El Toro High School back parking lot, which can be accessed on Serrano Road from El Toro Road. This parking lot does fill up quickly. Parking can also be found Lake Forest Drive and Serrano Road.
LOCATION:
Starts at the corner of Toledo Way and Ridge Route Drive and ends on Serrano at Dayton.
INFORMATION:
949-461-3450
Los Alamitos
Fireworks Celebration
July 4, 2018
Gates open at 4:00 pm, Fireworks begin at 9 pm
Free to attend, there may be a parking fee (bring cash)
Adults must have photo ID to enter.
Food Court, Sponsor Booths and Musical Entertainment. Lawn chairs and blankets are encouraged. No bleachers available this year. NO ALCOHOL please. Dogs, fireworks and motor homes prohibited (service dogs OK!).
Presented in cooperation with the cities of Los Alamitos, Cypress and Seal Beach, The Rossmoor Community Services District and the Joint Forces Training Base
LOCATION:
Joint Forces Training Base.
Enter through Lexington or Orangewood gates.
Mission Viejo
The Mission Viejo Annual Street Faire and Fireworks Spectacular
July 4, 2018
Noon – 9:30 pm
Held yearly on Olympiad Road and in the area adjoining Lake Mission Viejo, this Faire provides a classic Fourth of July celebration for the city of Mission Viejo. The fun begins with live entertainment on the Main Stage and youth bands performing on our Freedom Stage. There will be rides for the kiddies to enjoy, Food and Game Booths plus over 30 booths with wonderful craft and gift ideas. Admission is FREE with tickets being sold for games and rides.
For your convenience, a free shuttle will operate from 1:00 PM to 8:00 PM. Shuttle stops are located at twelve stops clearly marked around Lake Mission Viejo. Please no pets, skateboards or roller blades, bicycles or barbecue grills are allowed. The sky will sparkle at 9:00 PM for the fireworks spectacular. Don't miss out on the good old fashion fun.
LOCATION:
Olympiad & Marquerite
INFORMATION:
949-830-7066
Newport Beach
Old Glory Boat Parade
July 4, 2018
1:00pm -3:30pm
Each year the Newport Beach Harbor becomes a festive delight as owners adorned their boats in red-white-&-blue decorations, balloons, streamers and waving flags that outline the skies as Sousa Marches and Anthems fill the air. Families and friends from near and far arrive at the bay front beaches and yacht clubs along the peninsula and the many islands, vying for the best spot to settle down and view the boat parade.
LOCATION:
Newport Harbor
Newport Beach, Ca
Fireworks & Parade Cruises
July 4, 2018
Newport Landing will have 3 cruises for the 4th Of July including the Firework Spectacular evening cruise. Witness Newport Harbor as it is full of the Spirit of America.
2 1/2 hour daytime cruise times – 1:00pm to 3:30pm & 4:00pm to 6:30pm. Night time fireworks cruise will run 7:00pm to 9:30pm.
INFORMATION:
For additional information or to make reservations call
(949) 673-1489
Orange
3rd of July Celebration
Tuesday, July 3, 2018
4 pm – 9 pm
For over two decades, the City of Orange 3rd of July Celebration has been a beloved community event. The Celebration features live music, a petting zoo, pony rides, children's activities, community food booths, and an authentic hometown carnival atmosphere. When the sun sets, our grand finale begins with a performance by the Orange Community Master Chorale, and climaxes with a patriotic fireworks salute to America.
Tickets are $7 per person, children ages two and under are free.
LOCATION:
El Modena High School – Fred Kelly Stadium
3920 Spring St.
Orange
San Clemente
San Clemente Fireworks Show 
July 4, 2018
9 pm
At approximately 9:00 p.m. the City continues its annual tradition with a spectacular fireworks display from the Municipal Pier. The fireworks display can also be seen from many beaches and hilltop areas in and around San Clemente.
The end of the Pier will close at noon on July 3rd for preliminary preparation and the entire Pier will close on July 4th at 8:00 a.m.
LOCATION:
San Clemente Pier
INFORMATION:
949-361-8264
San Juan Capistrano
San Juan Capistrano 4th of July Celebration
Wednesday, July 4, 2018
3:00 PM – 9:30 PM
The celebration includes food, vendors, exhibitors along with a beer and wine garden for the adults. There will also be a carnival from 12:00 noon – 10:30 p.m. which features over 15 mechanical rides and attractions including thrill rides and activities for the little ones.
Free activities will include Car Ride, Family Games & Bounce House with the evening's musical entertainment ("Family Style") to be on stage at 6:30 p.m. The evening ends with a spectacular Fireworks Display at 9:00 p.m.
Street parking is available along Camino del Avion with additional parking in the Sports Park Complex. Free shuttle service available. No personal fireworks or barbecues will be permitted. Bring your chairs & blankets, Canopies are welcome in the back portion of the sports park.
LOCATION:
The Sports Park
25925 Camino Del Avion.
INFORMATION:
949-493-5911
Santa Ana
Fourth of July at Centennial Park
Wednesday, July 4, 2018
4 – 9:30 pm
The city of Santa Ana will celebrate Independence Day fireworks at 9 p.m. Celebration begins at 4 pm (activities end at 8 pm) with live music, delicious food, youth sports activities, kids jump zone, face painting, and more! Along with the fun, children will have a chance to meet important figures from American History at our annual History Walk and see a civil war cannon display.
To end the festivities, a 20 minute firework finale will light up the night sky! So bring the family, a picnic and lawn chairs, and enjoy a fun-filled evening at Centennial Park!
LOCATION:
Centennial Park
3000 W. Edinger Ave
Santa Ana, CA 92704
INFORMATION:
714-571-4227
Tustin
Annual Fourth of July Celebration
July 4, 2018
6:30 – 9:30 pm
Live music (The Silverados) starts at 6:30 P.M. Fireworks at 9:00 P.M. Pack a picnic & blanket. Tustin High Boosters will also be selling drinks, snacks and BBQ.
Operation Warm wishes will also be collecting non-perishable food items for disadvantaged and homeless Veterans.
LOCATION:
Tustin High School
1171 El Camino Real
INFORMATION:
714-573-3326
Yorba Linda
Richard Nixon Library Fourth of July Concert
July 1, 2018
12:300 pm
Concert by Huntington Beach Band, Tom Ridley, Conductor. Part of their concert series which is held on Sundays and are free and open to the public.
LOCATION:
Richard Nixon Library & Birthplace, East Room
18001 Yorba Linda Blvd.
Yorba Linda CA 92886
` ` ` `
Annual Fourth of July Spectacular
July 4
5 – 9:30 pm
The event will feature a live band, family activities, kids fun zone, and food and information vendors. Fireworks begin at 9 pm. No alchohol, pets or personal fireworks will be allowed at this event.
LOCATION:
Veterans Park (4756 Valley View Ave) & Yorba Linda Middle School (4777 Casa Loma Ave)
INFORMATION:
714-961-7160